Gun Law (1929)
Take your love away
and what could I do
- C. Scott & D. Dyer
Director: Robert De Lacey
Writers: Oliver Drake
Cast:
Tom Tyler as Tom O'Brien
Frankie Darro as Buster Brown
Barney Furey as Cy Brown
Ethlyne Clair as Nancy Brown
Lew Meehan as Big Bill Driscoll
Tom Brooker as Surveyor
Harry Woods as Bull Driscoll
Status: Lost
Length: 4746 feet
Tom O'Brien travels to Sage City and arrives at the local general store. Tom wishes to buy some supplies but since he has no cash on him, asks if he could pay using credit which the proprieter Cy Brown denies to him. Dejected, Tom leaves the store but returns that night to playfully scare Cy, when much to his surprise, it is his niece Nancy who comes running out the front door of the general store in a panic. Tom is completely taken with her, but Nancy brushes him aside, rebuffing him. Tom arrives at the store early the following morning hoping to catch her, but Nancy has left for her home in Placerville. Once Cy tells Tom where his niece is, Tom leaps onto his horse and follows in her tracks, hoping to catch her.
When he is in Placerville, Tom meets up with Bull Driscoll, who wants to get him involved with a shady operation, where Tom must file a property claim at the recorder's office – and the piece of unclaimed property in question contains valuable marble deposits. There is one catch, however; the piece of land adjoins Nancy's ranch, and Tom wants to help her lay claim to the nearby property. No one owns the marble deposits after an official land survey is done. Both Tom and Bull race on horseback to the property recorder's office to lay claim to the marble deposits. Cy also takes part in the race, but having the horse-driven buckboard wagon, at one point the wagon collapses after going over a tremendous bump. Of course, Tom reaches the recorder's office first and files the claim, enabling Nancy and her uncle, along with Buster, to live wealthy and happy – and Tom claims Nancy as his love.
"Gun Law" is the first of two silent films that Tom made with Ethlyne Clair – an actress who briefly became romantically associated with him in the media. One of Tom's best stunts is when he leaps onto Bull while on horseback and knocks him off, fighting on the ground – a stunt performed in many of Tom Tyler's previous silent films. A trivia note: Frankie Darro has the same character name as the one for Brown Shoe Company: Buster Brown.
Taglines:
Wild rides! Swift action! Grim gun-play! Glorious deeds! Come see it! (The Billings Gazette, Billings, Montana, April 7, 1929)
Gallant, gay, glorious, debonair – greatest lover of the screen in westerns – romantic Tom Tyler sweeps through a glorious love romance in "Gun Law" that will set you cheering. (The Montana Standard, Butte, MT, April 30, 1930)
Roaring of guns – clattering of hoofs – yipping of cowboys, in a race of love. The unwritten law of the old west - "Gun Law" - a surging, creeping, lurid tale of a man's plot against a defenseless girl so that he may claim for himself her hand. (News-Journal, Mansfield, OH, October 17, 1929)
Sources:
Motion Picture News, March 15, 1930
The News Palladium, Benton Harbor, MI, April 27, 1929
News-Journal, Mansfield, OH, October 18, 1929
The Star Press, Muncie, IN, August 11, 1929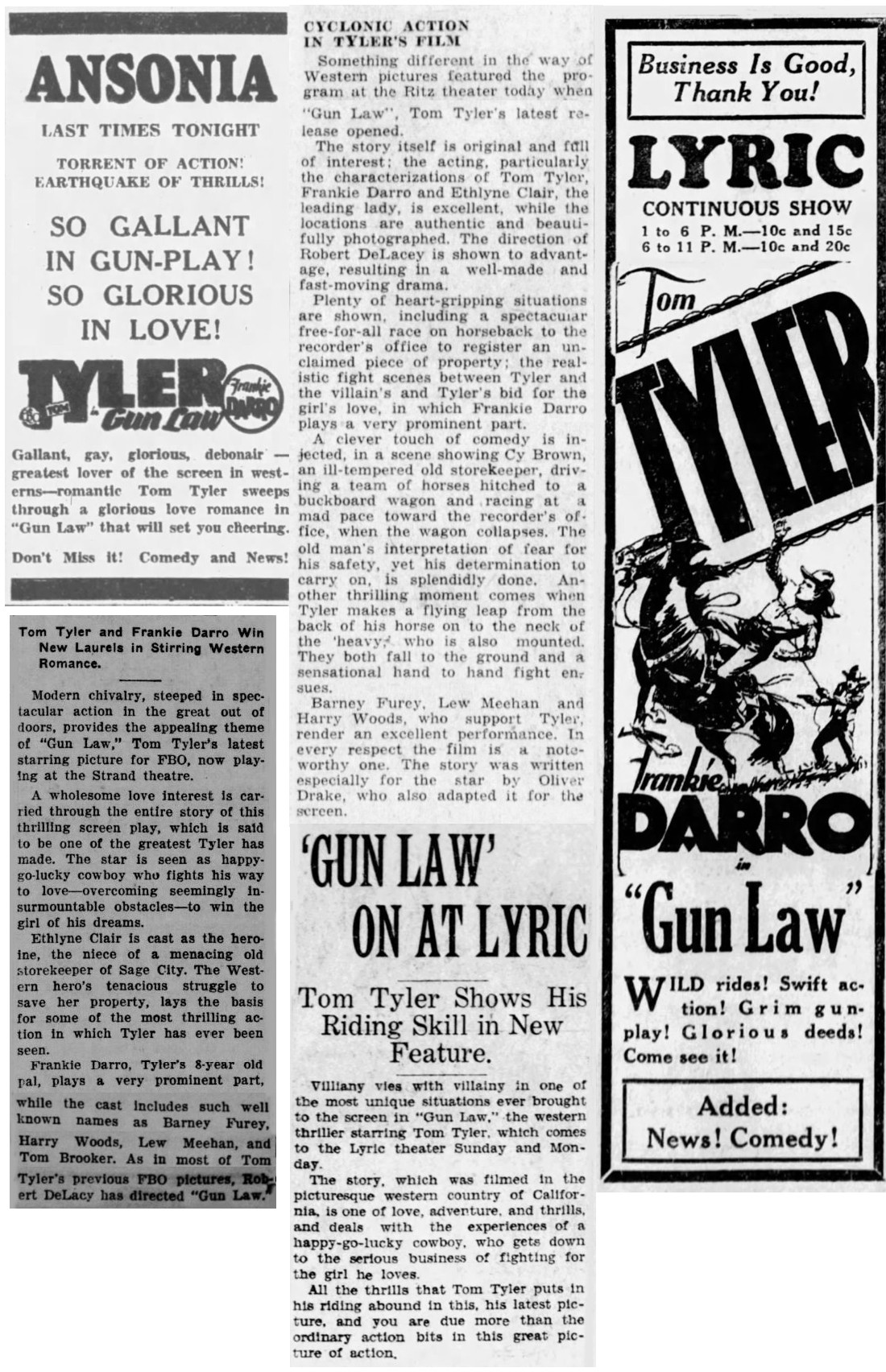 All composed text on this page is copyright Aventuras de Tom Tyler, 2018-2021.
No copyright infringement upon Tom Tyler's handsome face and gorgeous physique is intended. Neither is one intended upon his work. This website will always be ad-free and affiliate-free.

2015-2022 Aventuras de Tom Tyler