The Phantom of the Range (1928)
I just can't stand it
let me go
- C. Scott & D. Dyer
Director: Robert De Lacy
Writers: Randolph Bartlett, Oliver Drake
Cast:
Tom Tyler as Duke Carlton
Frankie Darro as Spuds O'Brien
Duane Thompson as Patsy O'Brien
Charles McHugh as Tim O'Brien
James Pierce as 'Flash' Corbin
Marjorie Zier as Vera Van Swank
Beans the Dog
Status: There is a 35mm print of this silent film at Instituto Valenciano De Cinematografia in Valencia, Spain. There was a print at Filmoteca Española, Madrid but no longer is in their collection. There is also a copy at Youtube.
Length: 4781 feet
Duke Carlton is a stage actor whose troupe is stranded in the western town of Prattsville. His last performance on stage in town brought a full audience, and in the center front row, one of his biggest fans, Patsy O'Brien with her little brother Spuds, and her grandfather Tim. Totally enamored with Duke, Patsy is happy that he is stranded, for it affords her time to meet and spend time with her favorite actor. Duke finds Patsy to be charming even though his female lead actress Vera has eyes for him. Duke of course brushes off Vera, while he has a more important thing on his mind: how to come up with the money to pay for this troupe's hotel bill while they stay in Prattsville. Duke is in the right place at the right time when he overhears that the O'Brien ranch has been offered $10,000.00 by Walter Corbin, a crooked real estate dealer, to its owners, but turned down by Tim. Corbin shoves the elderly Tim out of the way, inciting Duke, standing on the porch of the hotel, to fight him, even though Duke is dressed in his best suit. After Duke knocks down Corbin, he is surprised when Tim and Patsy offer to pay for the acting troupe's debts they have incurred while staying in town. Much to Duke's surprise, once he announces his retirement from the stage, is offered a position at the O'Brien ranch. Duke gladly accepts, since he was a cow puncher before becoming an actor. When he arrives at the ranch, Duke discovers his job is to milk cows. Patsy guides him, encouraging him, while he learns how to do his job and also make friends with Spuds.
Vera conspires with Corbin in getting the ranch away from the O'Briens when he cuts her in on the deal, and it is not long before Duke gets hold of a letter regarding the matter, which states Tim was offered $100,000.00 for his ranch for a major irrigation project. Vera shows up at the O'Brien ranch and feigns being Duke's wife, right in front of Patsy, in hopes that the latter will give him up. Duke of course denies being married, and with Spuds, wander outside for a chat. Meanwhile, Corbin's men are on their way to the O'Brien ranch and kidnap a competing real estate man, tying him to a tree. In time, Duke releases the competitor from his predicament, and fistfights Corbin in the middle of the O'Brien living room, throwing him off the ranch once and for all.
Read a blog article I wrote which further evaluates "Phantom of the Range" here.
Taglines:
They called him the phantom rider but he rode with clattering hoof and battled with barking guns - Two-fisted Tom, the fighting Adonis of the cattle range, gives you thrills you'll never forget in this smashing story of a cowboy's comeback. (Santa Cruz Evening News, Santa Cruz, CA, September 21, 1928)
A mysterious rider and a boy who knew no fear. (Democrat and Chronicle, Rochester, NY, August 12, 1928)
They called him a phantom but he came smashing through with fists flying and guns spitting destruction - Don't miss the thrill king of the west in this rousting film tale of a lone rider who came out of the mysterious night to match his daring against the terrors of the lawless range. (The Times Recorder, Zanesville, OH, August 19, 1928)
A real speed special! Dashing Tom and Daring Frankie go to the limit in cramming this new western with laughs and thrills. (The Daily Times, New Philadelphia, OH, April 21, 1928)
Sources:
The Honolulu Advertiser, Honolulu, HI, October 21, 1928
Motion Picture News, February 11, 1928
Harrison's ReportsFebruary 11, 1928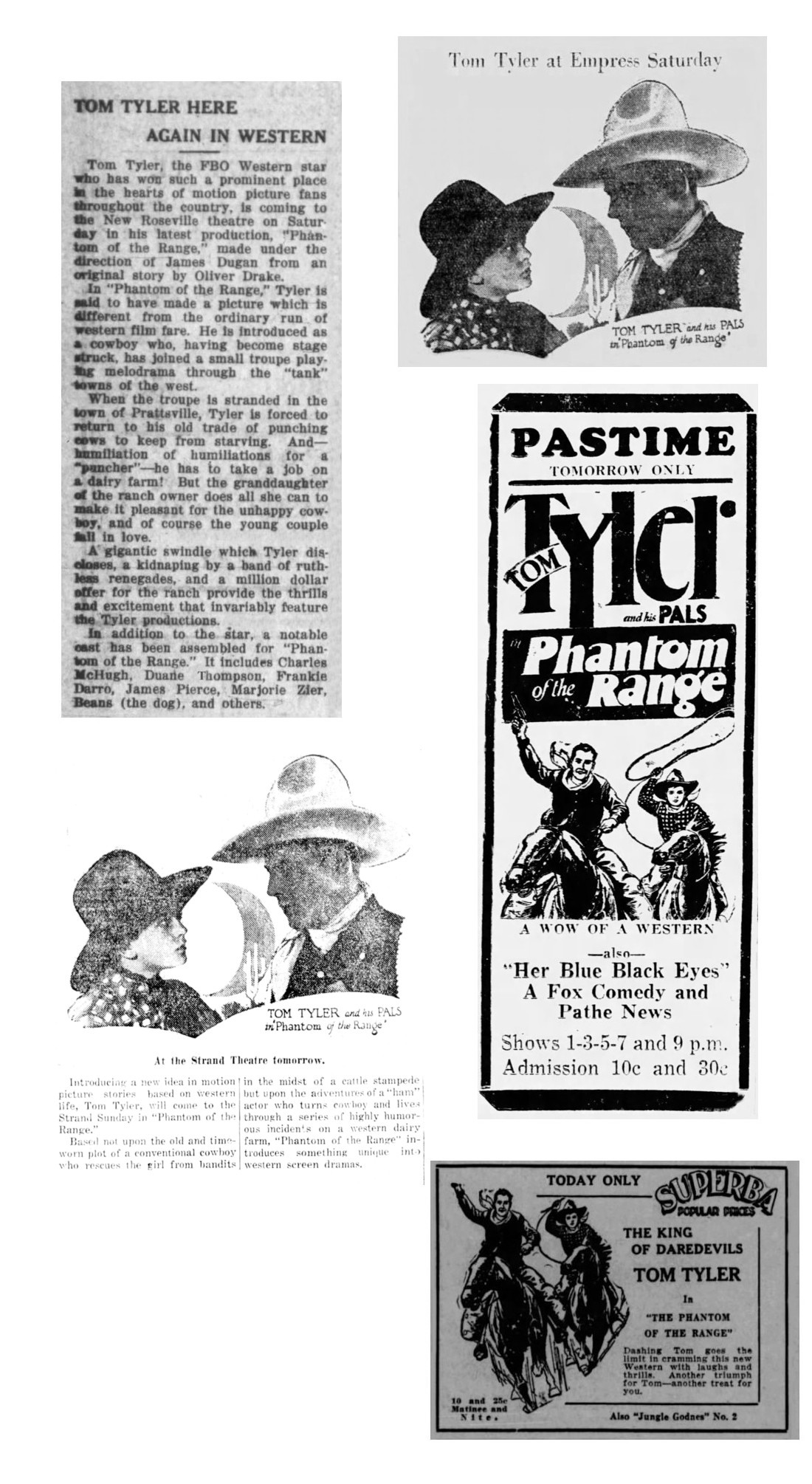 All composed text on this page is copyright Aventuras de Tom Tyler, 2018-2021.
No copyright infringement upon Tom Tyler's handsome face and gorgeous physique is intended. Neither is one intended upon his work. This website will always be ad-free and affiliate-free.

2015-2021 Aventuras de Tom Tyler